This blog is an outgrowth of a January 2016 op-ed I wrote for the Kansas City Star:  "Kansas City District Should Decentralize and Set the Schools Free".
In that op-ed I made the argument that Kansas City Public Schools (KCPS) can't truly compete with our growing public charter school sector as long as key decisions affecting KCPS schools continue to be made by the Central Office, far from the students and families the schools serve.
School autonomy is, consequently, a central idea of Set the Schools Free.  I believe decisions affecting students – staffing, curriculum, resource allocation – are best made at the school level.
I like the public charter school model because it offers this school-level autonomy and empowers parents, school leaders and teachers. But I'm not convinced that a 100% charter school district is in the best interest of Kansas City's families and students.
I'm concerned, however, that that this fragmented, all-charter district is exactly the direction we're headed if KCPS continues on its current path.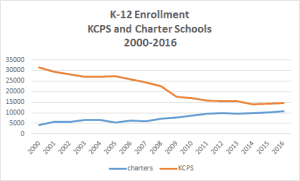 Fewer families are enrolling in KCPS schools. And with the opening of four new charter elementary schools next year, the expansion of several existing charter schools and a new charter high school opening in 2018, KCPS will soon serve less than half of all public school students.
Like it or not, our public education landscape is changing.
I believe there's a middle path between an all-KCPS and all-charter district – one that captures the strengths of a centrally-coordinated school system while taking advantage of the flexibility and autonomy of the charter school model. A system better equipped to serve all families well.
But finding this middle path requires looking beyond the politics and constraints of our current school system to develop a vision for what public education in Kansas City can be.
It also requires thoughtful analysis and discussion based on facts (data).
I hope to offer both through Set the Schools Free.  I'll be doing all of the posting initially, but over time I hope others will join me to share their ideas, perspectives and analysis.
What's your vision for public education in Kansas City?