In October Set the Schools Free was featured on KCUR in a segment by education reporter Elle Moxley on changing perceptions and enrollment patterns for public schools within KCPS boundaries:  "More School Choice Might Be Keeping Middle Class Families in Kansas City".
Here are some highlights:
A growing number of middle class families, encouraged by new public school options, are choosing to stay in KC rather than move to the suburbs when their children reach school age
There's been an increase in overall K-12 enrollment over the last three years, driven by growth in charter school enrollment (and despite an overall decline in school-aged population, according to Census Data compiled by the City of Kansas City, MO).
While Hispanic enrollment and white enrollment are growing, African-American enrollment is decreasing.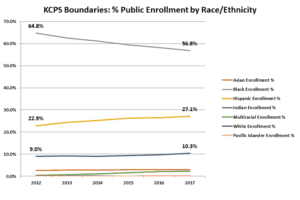 Click here to read the full story.